Sign up for the mailing list here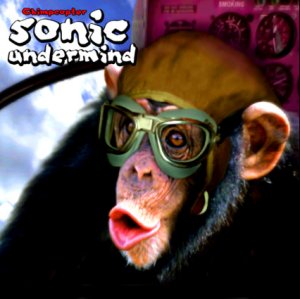 THE CHIMPCOPTER HAS LANDED!
First they created a monster, now they've created an entire parallel universe.
Secure internet payments accepted by credit/debit card using Paypal.
News
Order your copter online!
posted by Mike on 3rd June 2004 The first copies of the Chimpcopter CD have arrived, they're selling pretty fast so get them while they're hot. You can now click the buttons above (or in the merch page) to order them online! Thanks to everyone who came down to our two gigs at the weekend, especially the little kid in the Batman costume at Newbury Fringe Festival. The Chimpcopter competition has now ended, thanks to everyone who entered. All the entries were fantastic. The lucky winner will receive their copy soon and I'll be putting the best entries online soon.
The Chimp Has Landed!
posted by Mike on 24th May 2004 The EP is finally finished, it's gone to the manufacturers today. We are hoping we can get the CDs made in time to sell at our gigs on Sunday and Monday, it sounds great, the artwork is looking amazing. If you look in the downloads area you'll be in for a treat!
Uni gig!
posted by Mike on 21st May 2004 Things are starting to move again, we've been asked to play at Rough cuts at Reading University Student Union on the 31st May, the day after Newbury Fringe Festival! Should be a great weekend for the band, we hope you can come and see us at one or other of these gigs! Full details in the gigs section as always. Also there are loads more details about the Newbury Fringe Festival on their website.
Exclusive Chimpcopter Trailer
posted by Mike on 18th May 2004 Unfortunately the National Music Network demo play night was cancelled yesterday due to a power cut at the venue. To make up for the fact we've decided to release a sneak preview of what you can expect to hear on the Chimpcopter EP when it's finished. Click here to listen to the trailer. Right click the link and click save as to save it to your pc.
Photos
posted by Mike on 17th May 2004 I have uploaded photos from the Bristol gig. See them in the gallery.
Feeling Creative? Win Chimpcopter!
posted by Mike on 10th May 2004 Fairly big website update today. I've entered two new pages, one for the Chimpcopter information and one for lyrics. All this is to help you lucky people win a copy of Chimpcopter! Competition details
Festival info
posted by Mike on 5th May 2004 Hello again everyone. More info on the Newbury Fringe Festival. We'll be on at about five to five on the truck stage. Pete from Sonic Undermind will be playing with Pete and the Pirates at the rising sun arts center on the 15th May, go along and watch! See http://www.sugarrush.co.uk/ for more details. Oh, and I'm also writing a blog with AK from Yankee Nine-Niner if you fancy checking it out! You'll get a lot of insights into the goings on within Sonic Undermind as well as other things in the world of music and entertainment. http://www.coments.com
News Archives
March, April 2004
January, February 2004
November, December 2003
August, September, October 2003
July 2003
May and June 2003
April 2003
March 2003
February 2003