Sign up for the mailing list here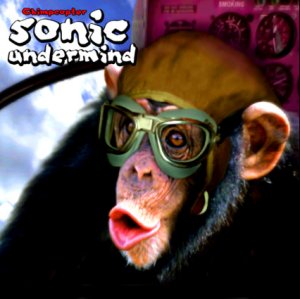 THE CHIMPCOPTER HAS LANDED!
First they created a monster, now they've created an entire parallel universe.
Secure internet payments accepted by credit/debit card using Paypal.
News
It's all over!
posted by Mike, 23/09/2004 That's it! We're spent! Thanks to everyone who came to our last gig. There are some pictures for you here. There will be a live video of the last gig at some point as well, hopefully we can stick that on the website for anyone who didn't make it down.
Sonic Undermind - Final gig press release, 02/09/2004
Local rockers Sonic Undermind, formerly Reading's second loudest band and a group the press called "truly unique" have announced that their illustrious reign of weirdness is to come to an end. After a couple of years gigging around the south and the release of two EPs that saw the bizarrely original band compared variously to The Darkness, Mike Skinner jamming with Slayer, Joy Division, Nirvana and Killing Joke the band members have decided that their fortunes will be best served by splitting like a virus to infect as many other bands as possible. The band would like to thank everyone that supported them along the way decided the best way to do so was to hold a huge party. So, with the help of local Unsigned Showcase promoter Luisa Seacroft, they are doing one last gig for all their fans with a pair of hand picked support acts. At Colorz bar in Reading on September 16th Sonic Undermind will be joined by two of the country's best up and coming rock acts to say goodbye and thank everyone who's supported them. Opening the night will be south coast metallers RipChord. Playing rock inspired by the banality of small-town life and born, in their words, 'outside the in-crowds of corporate, sterile London and it's mutant bastard child Brighton.' they have been stunning audiences across London and the South. Often compared to Muse and the Darkness they prefer to name Hendrix, Metallica, Nirvana and Deep Purple as influences. Fans of Total Rock radio will probably have heard their single The Quibble which is still on the stations playlist. Following them will Left Side Brain. The Bristol based, hard rocking, big riffing anglo-welsh rockers who've picked up a healthy following in Reading after some blistering gigs at Bar Oz and The Fez over the last year or so. The band's recent successes with the Surface Tension EP including rotation of their video on Scuzz and Kerrang TV are being followed with the album Equal and Opposite in November. And as if all that rock wasn't enough the night also features Josaka and Blast DJ and compere to the stars Jim Bowes defending his honour in an almighty Rap Battle against local upstart Austin Matthews. Sonic Undermind's farewell gig will be on September 16th at Colorz Bar (formerly Bar Oz), Station Hill, Reading.
Doors 7:30pm Entry £3/£2 Drinks offers all night. http://www.leftsidebrain.com
http://www.thechord.co.uk
Sonic Undermind to split up
Sonic Undermind are sad to announce that for various reasons they are to go their seperate ways at the end of September. We've had a great time in the band and we'd like to thank everyone who's supported us throughout the lifetime of the band. It's not quite all over yet though. We are going to have one last gig at Colorz (formerly Bar Oz) in Reading on the 16th September. It's going to be a huge party and we hope as many as possible of you will be able to come. It'd be great to turn it into a huge celebration.
News Archives
May, June 2004
March, April 2004
January, February 2004
November, December 2003
August, September, October 2003
July 2003
May and June 2003
April 2003
March 2003
February 2003